WME Weekends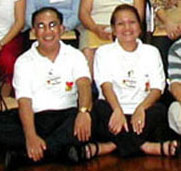 RANDO & VIVIEN
RANDO & VIVIEN CAPINPIN AND FR. GREG ARE MANILA'S NEW ZONE ECCLESIAL TEAM FOR THE YR 2006-2008
They are the new and fresh leadership that will shepherd the Archdiocese of Manila-WME North Zone in the next 3 years. In a discernment held last Saturday Oct 22, 2005 at Bahay Pangarap in Kamuning Q.C., the team community in one voice and spirit chose them and Fr.Greg to be the new ZET (Zone Ecclesial Team) to carry on the banner for the ARCHDIOCESE OF MANILA, after Sam & Marin Uy finishes their successful term at the end of this year. Rando & Vivien has been playing active roles in the past and current zone board. They had their original weekend in 1990.
---
FR. GREG'S 40/25 ANNIVERSARY– A SMASH HIT!
FR. GREG BUENAVISTA was up on CLOUD 9 last August 28 as he celebrated his 40th year as a Priest and 25 years as a WME priest, and he wasn't alone. Everybody was euphoric. He thought it was just the usual dinner and a little program, but he was in for the surprise of a lifetime! He was greeted by a huuuge tarpaulin, with his picture and name emblazoned on it at the entrance of the Multi Purpose Hall in Camp Crame. "Para akong movie star," he exclaimed. His entrance was greeted by warm applause as couples took turns hugging him. For the record, 200 guests were expected…276 came…SRO audience! The Thanksgiving Mass was celebrated by Fr. Greg with 14 other priests which included his SVD Superior, Fr. Jaucian, his nephew, Fr. Ray Pascual, LMI, also an encountered priest, Fr. Yohannes. For the choir, ( courtesy of Buddy & Maya), we had none other than the choir of the Light of Jesus Community (under Bo Sanchez) After the solemn Mass, the fun began… there was group singing per table by DJ groups. Fr. Greg was all smiles as the DJ groups vied in singing the songs in his book, Love Songs. Emy of Esther became conductor as he urged couples to sing in tune with the choir. Then a video of Fr. Greg's story from his childhood up to his priesthood and involvement with the WME was shown. Ang pogi ni Fr. Greg noong binata pa siya. He was the HERO OF THE WALLFLOWERS! Galing pala niya mag-boogie! We could do no less than dance… the Archdiocese of Manila ladies danced to the tune of the 70's clad in glorious mini-skirts and boots! The 80's dances were the forte of the Archdiocese of PLM. Of course, di pahuhuli ang mga kalalakihan, JOHN TRAVOLTA came alive thru Jolan of Grace together with the other hunks of the Archdiocese of Manila. The show stopper was the comedy skit with award-winning acting by Sammy Uy (a.k.a Samuel Ong), Terry of Marnie, Max of Marlene, Ben of Cynch, Henry of Lizzie and other gentlemen of the Archdiocese of Manila. Then came the affirmations, from his brother: Fred, Jis childhood friend: Jun Catan, WME priests: Fr. Yohannes and Fr. Bert of Pangasinan, his ecclesial teams: Sam © Marin, Bing © Nina, Jolan © Grace, Ric © Daisy, Edgar © Sonia and Pol © Nena. They took turns telling the audience the sterling qualities of Fr. Greg as WME priest and as a person. Behind the scenes directors, Sam © Marin, Henry © Lizzie, Terry © Marnie, Ben © Cynch, Rando © Vivien, Max © Marlene and Francis & Agnes brainstormed and put their ideas into action within two months. The WME children, Randy of Rando © Vivien, Booboo of Ditoy © Cora all helped in making this dream celebration a reality! Fr. Greg: "I feel very grateful to all the couples. They really made my day unforgettable. Memories of that night will last me for the rest of my life. My only regret is that I wasn't able to hug all the couples who came. I wanted so much to talk to them one by one and thank them personally. Especially the couples who worked so hard to make this night a dream celebration."

FR. DAVE CLAY'S 70th/40th CELEBRATION ON DEC. 15, 2005
Fr. Dave Clay, will celebrate two important milestones. He will be turning 70 years old and he will be celebrating his 40th year as a missionary on Philippine soil. The community of Worldwide Marriage Encounter-Philippines, are honoring him with a dinner on December 15, 2005, 7 PM, at the San Beda College in Alabang. We are inviting people whose lives have been touched by Fr. Dave or those who have touched his life, friends from Marriage Encounter, Catholic Engaged Encounter and Evenings for the Engaged. We know that Fr Dave will be thrilled to see you during this occasion. Please contact Dado at 810-0222 or Cory through her cell 0920-9053329 or email them at ejh@globelines.com.ph if you are interested in attending this occassion.
---
---
WME PHILIPPINES WILL PARTICIPATE IN THE 4TH WORLD MEETING OF FAMILIES. COME AND VISIT THE WORLDWIDE MARRIAGE ENCOUNTER BOOTH AT PICC.
For the Fourth World Meeting of Families in 2003, the Pope has decided to hold it in Asia, here in our very own shores from 23 to 26 January. Manila is humbled and honored to host this auspicious event. We accept this gift and responsibility with greater fervor and conviction since the HolyFather has called the Third Millennium, the "Asian Millennium" - the millenium for the proclamation of the name and Gospel of Jesus in Asia.We are called "to share with our Asian brothers and sisters what we treasure as the gift containing all gifts, namely, the Good News of Jesus Christ." (Ecclesia in Asia 19). Asia is home to nearly four of the six billion people of the world. Of these four billion, only 120 million are Catholics, 70% of which are Filipinos. It is therefore to every Filipino Catholic, to every Filipino Catholic family, that the mission to evangelize Asia is entrusted more forcefully. The time has comefor us to lead in proclaiming and living out the Gospel of Jesus to the world. And this mission will pass by way of the family. It is for this reason that the theme for this important gathering is "The Christian Family: Good News for the Third Millennium."
ANDY & NORA GREGORIO AND FR. GERRY TRUNO ARE THE NEW NATIONAL ECCLESIAL TEAM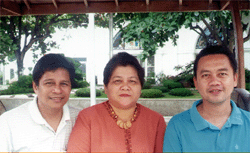 Last September 22-24, 2005 WME Philippines held its 50th National Board meeting at the Talavera House of Prayers in Pardo, Cebu City. At the end of the meeting the Board discerned Andy & Nora Gregorio and Fr. Gerry Truno as the new ecclesial team. They will serve for 3 years from 2006- 2008. They are all from the Diocese of Dumaguete and have served in the past as Zone coordinators. They are only the 2nd national couple chosen coming from the Visayan region. Terry & Marnie Malicse and Fr. Boy were the first NET coming from central Philippines. A turn over ceremony will be held on November 12, 2005 . Bing & Nina will transfer the leadership to them during the 29th Anniversary celebration of WME Philippines and at the same time the Gala Night of the 30th Asian Conference being hosted by the Philippines this year."
---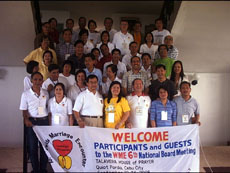 50th NATIONAL BOARD 2005 HELD IN TALAVERA HOUSE OF PRAYERS CEBU CITY
(click picture to enlarge)
---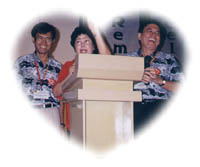 PAST NATIONAL ECCLESIAL TEAM- 1999-2002 TERRY &MARNIE MALICSE AND FR. BOY
(click picture to enlarge)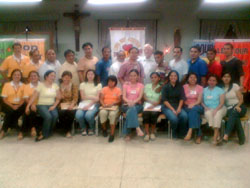 DECEMBER 2-4, 2005 WEEKEND
MANILA NORTH ZONE - MANRESA RETREAT HOUSE
(click picture to enlarge)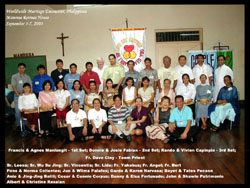 SEPTEMBER 5-7, 2003 WEEKEND
MANILA NORTH ZONE - MANRESA RETREAT HOUSE
(click picture to enlarge)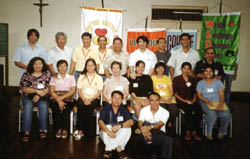 FEBRUARY 6-8, 2004 WEEKEND
MANILA NORTH ZONE - MANRESA RETREAT HOUSE
(click picture to enlarge)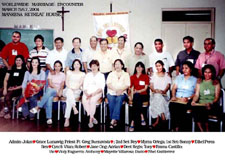 APRIL 2-4, 2004 WEEKEND
MANILA NORTH ZONE - BUKAL NG TIPAN MARYHILL-CICM
(click picture to enlarge)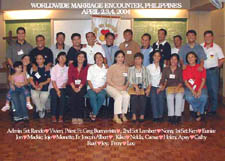 APRIL 2-4, 2004 WEEKEND
MANILA NORTH ZONE - BUKAL NG TIPAN MARYHILL-CICM
(click picture to enlarge)
Know Your New ZoneCoordinators


WWME Weekends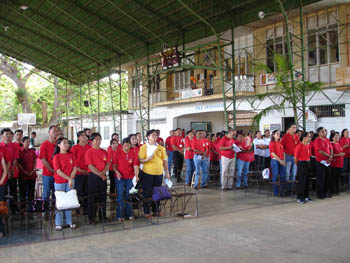 THE 6th ANNIVERSARY CELEBRATION OF WME SIQUIJOR LAST APRIL 8, 2006
Click Here See More Anniversary Photos
---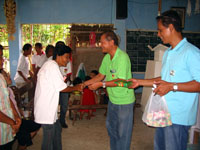 WME CAMOTES 2008 CHRISTMAS PARTY
Click Here See More WME Camotes Christmas Party Photos
---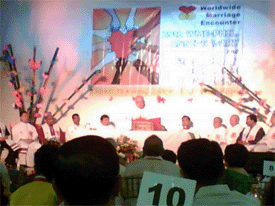 Holy Mass Celebration By His Eminence Cardinal Vidal at the 30th Asian Conference Gala Night Held at the Multi Purpose Hall, Camp Crame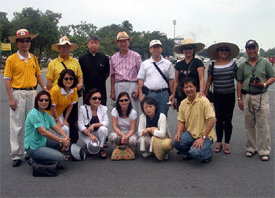 (click picture to enlarge)
The Delegates/Observers and Priests of WME- Korea Who Attended The 30th Asian Conference With their WME-Philippines Hosts
---

Manila North Zone receives award during 25th Anniversary Celebration
Pre Convention Enrichment
Ms. June Keithley talks on The Effects Influences of Media on Family Life.
Click here to view the Lucena-Choice Parenting Reachout Photos
---
FAMILY CAMPING ENRICHMENT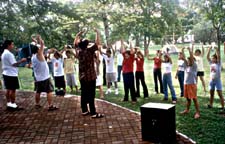 MANILA NORTH ZONE CHOICE WEEKENED AT CICM LAST APRIL 26-27, 2003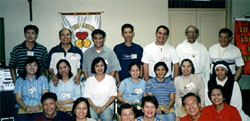 Manila North Zone July 4-5, 2003 weekend at Manresa Retreat House in Quezon City
(click picture to enlarge)

POPE BENEDICT XVI'S PRAYER INTENTIONS FOR MARRIED COUPLES
VATICAN CITY, OCT 31, 2005 (VIS) - Benedict XVI's general prayer intention for the month of November is: "That married people may imitate the example of conjugal holiness shown by so many couples in the ordinary conditions of life."
His mission intention is: "That pastors of mission territories may recognize with constant care their duty to foster the permanent formation of their own priests."
BXVI-PRAYER INTENTIONS/NOVEMBER/... VIS 051031 (80)Article send in by Fr. Sean Coyle, Ecclesial Priest, WME Bacolod