WeekendStatisticsfor the past 5 years
CLICK TO SEE CHART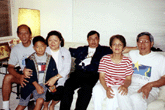 Fr. Opet in the US

click to view bigger image
---
LingayenDares to Dream
Holds SilverAnniversary Weekend
by Thaddang

Atthe Silver Anniversary celebration in Cebu city, amid the pulsating heart
representingthe WME zones and satellites throughout the Philippines, the one depictingLingayen remained steady, without any beat at all, almost lifeless.

Therepresentatives of Lingayen, Nacy & Minda, Mnny and Rose and Fr. John saw their motionless heart. Their own hearts missed a beat, perhaps conscious that everyone was asking the same questions they had in theirminds what happened to Lingayen?

WouldNacy the doctor be able to revive the torpid heart and nurse the Lingayen community out of coma? Or was it time for Fr. John to administer the extreme unction to the community? Was the North Zone prepared to mourn the demise of its first born and the only reach out of North Zone for a longtime?

Theanswers came December 14-16 when the Pangasinan Community had its echo 25th Anniversary weekend complete with large banners We Remember, We Celebrate and We Believe. Nacy & Minda chose not to have the " surgery" at theirclinic but at Villa Narcisa, a quaint resort in Labrador, Pangasinan.

ThatFriday evening, the couples looked into their own hearts, poured out theirfeelings and flushed them down with tears. Their sharing cleansed the negativeattitude which ailed Lingayen heart all these years and pumped in fresh,invigorating blood to revive it

Likethe caring parents they are, National Team Couple Terry & Marnie, arrivedSaturday evening to be with them and to assure them of their love of theentire WME movement. They brought with them Thad & Dang, who in 1993journey with Lingayen pre-team to prepare them for the Deeper Weekend.

Sundaymorning's attendance was a positive indication. All the active coupleswere there, more than half the number of Sunday night couples of the pastnine years. Terry & Marnie gave the power point presentation of the "Where are We Now? And Our Vision for the next 25 years which stillshowed Lingayen beating heart. But they answered heartily to their question – ARE YOU WITH US – with a rescunding YES
heardas far as La Union.!

Thad& Dang then addressed then: "We Remember. We remember how we lovedyou. We remember how we traveled every Friday for eight consecutive weeksto journey with you. We built a bond of relationship. We loved youand you loved us. We even had our theme song "The Journey", but sadly,we can't even remember the words today. We shared with you a bold vision– that no weekends will be held in Lingayen until you had own teams- Whathappened to that vision? We shared that dream with you, but you did notawaken to bring it to reality. Quo vadis, Lingayen? But still we believethat the seeds we planted will not remain dormant anymore but will germinate,sprout and become fruitful to produce more seeds which youwill plant else where.

Theywere asked to reflect on the questions: " What can we a couple do to revivethe community? Where are we now? What is our vision? What are the obstacles?"They reported by groups with almost the same answers. Terry & Marnietook them through the exercise on the Formula of Success: ( Intentions + Mechanism = Success Another exercise on the dynamicsof moving towards individual destinations against having a common goaland reaching it together. A video showing " One Step at a Time" drove homethe point that physical disabilities do not stop one from attaining success;in other words, their obstacle could be overcome to attain their commonvision.

Theystarted to believe in themselves again. The couples recommitted themselves. Their commitments were written in duplicates, one to be pasted the balloons to bring it heavenward, the other kept to remind them of their commitment.

Underthe blue sky and a burning afternoon sun, the Lingayen community gathered outside in prayer. They released three large balloons bearing their promise. Aided by an breeze from the sea, the balloons went swiftly to the heavents as clumps of white clouds parted to make way for the messages to heaven-LINGAYEN DARES THE DREAM.


| | |
| --- | --- |
| Greater LA Living Cell/DJ Group | |
DatelineNews from L.A

Dateline L.A.
Silver Anniversary Celebration
by Mon & Bee Ravelo
While Cebu was a beehive of lovers last November, L.A.wasfar from being humdrum. The monthly DJmoved on to Mon and Bee's home in North Hills where Roland and Dida presentedSeries 2 of the Journey To Intimacy. From the opening prayer, which was intended for the successof the Silver Anniversary Convention in Cebu, the mood progressed fromfestive tosolemn to joyful. Roland and Dida did amarvelous job ofmaking the presentation come alive in each and every heart ofthose present. L.A. LC/DJ is fortunate to have a couple so unselfish and willing to sharethemselves.

Then all roads led to Denver, Colorado for Rody and Ammie'sinvitation to a Thanksgiving Day dinner. It was well worth the 1200-miledrive. Not just because of Ammie's superb cooking but also seeing the lovelycoupleagain after many, many years. And then there was Jenny of Gal, ever sowarm and jolly. She didn't want to miss coming after learning thatthe L.A. bandwagon was coming. It was an evening of reminiscing andrenewing love and friendship. WME bonds couples forever. TheDenverconnection is one living proof of that. Oh yes, the children were theretoo,doing their own bonding.


DITOY AND CORA LAUNCH SPECIAL DJ SERIES ON
THE LANGUAGE OF LOVE
click here to continue
by Rey & Myrna Ortega
HOT NEWS
CHOICE & PARENTING IN LUCENA
WME Cagayan de Oro/Iligan
BALITANG BASILAN
A week before the recent Basilan calamity, a weekend was held there last May 18-20, 2001. There were 18couples in the weekend. Thad & Dang Hamoy and Manny & Estela Fortunawere 2 of the presenting team couples.
click hereto continue


WME Cagayan de Oro/Iligan Community News -O & A REACHOUT Program; KING AND QUEEN OF HEARTS FOR A CAUSE!!! ;LAKBAY SUGBO PROJECT LAUNCHED!

WME Dumaguete on TV

---


North Zone's O & A EnrichmentProgram

North Zone O & A coordinator Donnie & Josie Fabianhas lined up for Matrimony a newly encountered couple exuding with youthand contagious enthusiasm who will share their experiences on listening. If you want to find out who this couple is, come on Saturday evening, August 18, 2001at 8PM at Jun & Flor 's place in 73 Kamuning Rd. Q.C.

Con't of News fromThe NET
We will be making a presentation together with Pol &Nena, and Gerry & Mila on
April 5th, 2002. We are to acquaint with them the giftswe can offer and hopefully incorporate
this in their family life program. We will sharewith you (coordinators) the
presentation if you want to adopt this or parts of itin your
"parish presentation" as the situation demands.

WME Masbate Affiliation

Remember the Masbate couples who attended our Silver Anniversary?
They reiterated their interest to affiliate with theWME. Their
coordinator came to Manila this weekend to discuss andcoordinate the
mechanics with us. A process of affiliation has beenproposed to them. Their
Marriage Encounter is a parish movement and they needto have
connectedness with us.

Living Cell/DJ Meetings

Last March15th, our DJ group welcome a new and handsomeyoung
priest from Dumaguete, Fr. Ray Pascual, who just hadhis
weekend last February, 2002.

To the LC/DJs please invite priests as members of your
LC/DJ group and welcome them to your families and communities.It is
nice to have two sacraments journeying together to hisKingdom.

Our experience with Fr. Ray was beautiful and very relevantin our
movement.

Sense of Mission:
We believe it will help aside from the main purpose ofthe LC/DJ, that
each group will develop on their own that sense of missionas an
overflow of your love with each other and the WME community.The result
of loving and closeness to each other due to our dialogue- is
sharing. Sharing not only to the WME couples butto others who are
last, lost and least. We are not only teams of the WMEcouples but
teams for the church.

Some LC/DJ groups reachout and even hold their LCmeeting in their
mission area, like house of the orphans, abandoned children,old and
dying distitutes, and many opportunities where they canshare their
love.

A Sharing with the International Team

We had the chance to have a sharing with Lee of Jan Kremer­ our
International Couple, after our National Board Meeting.He was happy
and excited about the Philippines' WME going parish based.This is
also the thrust of the International.
FROMBRUSSELS TO BASILAN
Impressions of the Weekend in Basilan
by Thaddang !

In our mind's eye, Basilan is a gleaming emeraldset against the deep blue – green ribbon that is the Basilan Strait whichseparates it from the Mindanao mainland. This verdant island in the Southhas a glowing Worldwide Marriage Encounter Community which regularly requestsfor Team Couples and Priest for their Weekends. This Weekend of May 18-20,it was our turn to fly down to answer their call.

For the unknowing in the metropolis, Basilan immediatelyconjures images of an island at war teeming with combat personal and materiel,of dreaded Abu Sayyaf, of kidnappings, ambuscades and encounters. But forthis weekend, it would be an encounter of a different, love-filled kind:the WME Weekend at the Q Formation Center in Isabela City. Thus, with NationalCouple Terry & Marnie, off we flew on Air Philippines to the fabledfar Zamboanga.

The Basilan coordinator, Dodong of Lily, met usat the spanking Zamboanga City International Airport. The cramped terminal building we last saw when we left the City of Flowers 11 years ago hasbeen replaced with the modern edifice that welcomed us that Friday. Thecity has changed, we observed on our way to the wharf. There we boardeda fast craft for Isabela and along the way caught a glimpse of the pinksands of Sta. Cruz Island, once a favorite picnic spot during our three-yearsojourn in Zamboanga.

How the Basilan Community loves visiting presentingteams is immediately manifest. At the first opportunity they would soonkill you with love. During lunch at the house of former coordinators Cesar& Daisy, we had our first encounter with the Abu Sarap: inihaw na isdaso fresh and juicy, sugpo, kinilaw and the piece de resistance, curacha in gata! It was a sumptuous encounter- Terry with all his magic could not make all the curacha disappear from the table as they kept coming. Marnie almost passed out and almost immediately had an attack of her ailment piglasis. No retreat, no surrender? We surrendered and retreat, and decided to proceed to the Formation Center to wait for Fr. Boy Gomez and second setters Manny & Estela who were flying in from Cebu.
click here for full text




PHOTOS DURING CHOICE &PARENTING IN LUCENA
Click here to view some morephotos
Silver Anniversary Celebration Will Be in Cebu- Clickhere

---
ANTIQUE
Another double whammy celebration. Congratulations to Antique coordinator Bob of Elsie Operiano. He is nowthe Vice Governor of Antique. Another big & resounding congratulationsagain, because Bishop Romy dela Cruz has been assigned there. Now Bob &Else can't complain anymore that they don't have priest in their community,they have a bishop. Bishop Romy is starting to campaign for couples toattend the Cebu Silver Anniversary Celebration.

---
Dateline News from L.A
The Greater LA Filipino LC/DJ grouplead by past North Zone Coordinator Enjie & Edna Vargas will soon havea regular Dateline News page feature in our WME Philippines website. Watchout for this.
---
Silver Anniversary Souvenir Program
There's approximately less than 90 days left till our Silver Anniversary. Registration are stillaccepted. For those who may not be able to come due to work schedule butare very capable financially, you are requested to sponsor a couple to go to the convention instead. Each one is also requested to help find sponsors/ads for our Souvenir program. Ask your zone coordinators for the solicitation form. Ads cost will be PHP3,000.00 for a whole page ad, PHP2,000.00 forhalf page and PHP1,500.00 for one-fourth page. For WME couples-family adswill only be PHP1,500 for half page. Ask your friends to come along andjoin us on this once in a lifetime opportunity to celebrate this milestonein the WME Philippines history.
Last June 10 the LC/ DJ Group of James and Josie has reachout to Batangas and campaigned for our Silver Jubilee in Cebu.
Terry Marnie gave the first module of the Prelude to Silver. Those who went to Batangas were James & Josie, Dante & Nena, Rodel & Cecile and Terry & Marnie. Thecampaign brought about a renewed commitment of the Batangas couples tobe active and really campaign for Cebu.
WME On DWIZ 882 KHz
The DWIZ Radio Program "WOMEN TALK"interviewed Max & Marlene Lim last July 3, 2001, as to the stand ofWME about the current issue on the Divorce Law being proposed by Senator Biazon in the coming Senate Session this July. Asked by the program's hostesses, Ms. Marou Sarne and Ms. Mel Estonillo, why WME is against the proposedlaw, Max & Marlene says that our WME organization does not believefor the necessity of the Divorce Law, as this will cause further break-upof families, just as the Church's belief on this issue. Max added furtherthat because it is the goal and mission of our movement to change the worldby helping couples to live fully in intimate and responsible relationship,which runs counter to the law being proposed in the Upper House.
Max & Marlene took the opportunityto promote the North Zone coming weekend on July 6-8, 2001 and also theforthcoming Silver Anniversary Convention in Cebu. We highly encourageall our couples to take a stand and be actively involved in opposing suchanti-family statutes.

---
Parenting Enrichment for Calayan Educational Foundation. Inc. A Success
Last Saturday Sept. 15, 2001 a groupof couples from the North zone led by Donnie & Josie Fabian went toLucena for another Parenting enrichment held at the YMCA Hostel in Lucena City. The whole day enrichment was attended by parents of the CEFI highschool student. The parents were so thankful for a wonderful day of experienceand learning from the sharing of the WME couples. The couplewho presented and facilitated were Mo & Mila Escano, Max & MarleneLim, Tony & Mely Quintos, Mulong & Narda Cabrera, Jun of Flor,Homer & Jo Bondoc,Raff & Glo Rodriguez and Mila of Boy and Onie& Susee Calayan. The program ended with a mass for the parents, studentsand couples.

---

Secretariat Meeting with Lee Kremer
Makati, Feb. 26, 2002


In the recent visit of Lee of Jan Kremer- (International Team Couple) in
Manila we had a chance of sharing about the latest developmentof the
WME in the Philippines. He was updated with the recent National Board
Meeting held in Mindoro.
Lee expressed his accord and support for the major decisionsmade in
our board meeting among which are the following:

a. The orientation and thrust towards the parish in responseto the
mandate of the Catholic Bishop's Conference of the Philippines.(CBCP)

b. The need for an Episcopal Moderator who would be ableto articulate
before the CBCP who we are and what we are about andat the same time
inform us first hand the " mind of the Church" regarding contemporary
development and issues.



Support for the Weekend Reach Out

a. That we should not be deterred to undertake our reachout program
because of financial constraints. He offered several suggestions on
raising fund, that include supplying the US Community the T-shirts
required for their National Convention in July 2003 oroffering our
services in preparing or printing their Souvenir programin the
Philippines.

b.Communicate to other WME Secretariat/ Communities whohave enough
funds for "reach out program". Lee is willing to helpus in this area
as this is also the thrust of the International Secretariat.

c.Generate reach out fund from within the community.

Other Concerns:

a. For the WME Phil to make a write up about the parishbased program
and activities for the "Matrimony Magazine" in the USA.

b. To also feature in the write up, how WME Mindoro hasbeen able to
get influential people to attend the weekend, like theMayor,
Congresswoman, Vice Governor and Governor and other politicians,head
of the pastoral council and how WME can indeed make adifference not
only in the religious field but also in the socio-economic and political
fronts, a tangible proof that we can indeed change theworld.

25th Anniversary SuccessfulCelebration
Seyong & Cita who experience their original weekendin 1985 traveled 387 nautical miles, from their home town in Cavite toCebu to celebrate their 64th wedding anniversary, amidst the Jubileecelebration of the WME Philippines 25th anniversary. Asked to comment ontheir anniversary and celebration, Seyong & Cita said, "Now we areready to die". They were so touched of what was happening during the openingceremony up to the closing Holy Eucharist Celebration led by His Eminence, Cardinal Vidal that they felt they have reached the zenith of their relationship. They are only one of the more than 1,200 couples, priests and religious,choice graduates, guest and friends of WME Philippines who attended thecelebration.

The Silver anniversary celebration of WME in the Philippineswas successfully held at the Grand Convention Center of Cebu last Novemeber16-18, 2001. The theme of the convention is We Remember, We Celebrate,We Believe.


The opening ceremony featured a memorabilia exhibit ofWME mementos, priceless souvenir items and collectibles gathered from thedifferent zones of the whole archipelago. Twenty-five chosen couples fromall over the country lit the 100 candles embossed to number 25 in a bed of chrysanthemums. The candles glowed & flickered throughout the evening.

So many were touched and in tears by the grand entranceof the parade of flags for the 25 zones and satellite areas as each localteam coordinators and priests marched to the stage in cadence with thewarm applause of the delegates. Everyone felt the profound solidarity ofthe whole WME community and was proud to belong to this family. Grace of Jolan Lumawig from Manila North Zone says, "I the felt goose bumps allover my body and the convention could have ended right there and everybodyfeeling already fulfilled."

However, the highlight of the evening was the audio-videopresentation of the history of WME in the Philippines, characterized byjoys and pains, victories and failures, experienced by those who brought the weekend here and the first seeds of leaders of the weekend of 1976.They who dreamt and dare to make what WME Philipines is now. To rememberthe past, recognitions were given to Buddy & Letty, Don & JuneChui, Fr. Connaughton. His eminence, Cardinal Vidal, considered the patriarchof the Worldwide Marriage Encounter here in the Philippines, likewise receiveda certificate of recognition. Everyone was awed and felt uplifted to knowthe roots of the movement and be part of WME in the Philippines.

The evening closed with a grand cultural presentationof the Sinulog Festival that featured the patron saint of the City, TheChild Jesus or Sto. Nino brought in by Spanish conquistadores to the Philippines.

The second day of the convention was a blockbuster soto speak as it featured outstanding speakers and sharers, various contest, dialoging, entertainments, dancing and partying from morning up to theGala night. Fr. Rod Salazar spoke on the "Role of the Movements in theChurch", while The Most Rev. Antonio Luis "Chito" Tagle deepen the understandingof everyone on "The Many Faces of Christ"
To the envy of Ditoy & Cora Atayde and Fr. Kim theAsian Ecclesial teams, Lee & Jan Kremer, the WME International Ecclesialcouple received 17 thunderous applause from the delegates during theirspeech and Cora egged on the whole gallery to applaud for them more thanwhat Lee & Jan received by enthralling the crowds with her antics.

The Philippine National Ecclesial Team, Terry & MarnieMalicse and Fr. Boy Gomez enchanted everyone with their power point presentationto demonstrate where WME Philippines is now and where it is headed to.This must have stirred passion on the hearts of everyone to be more involvedin the growth of WME as one dormant satellite zone already have plans toresuscitate back to life the enthusiasm of their lulling community.

The tear jerker for the day were the sharing of variouscouples who shared on the many faces of WME in their lives. Bishop Romyde la Cruz couldn't contain his emotion that he too showed that bishops also cry.

Sal & Cel Bolongan of Cebu reported that everybodywas so happy and impressed with the program and sharing that they werevery enlightening and enriching, that even if there were miscues it didn'tmatter anymore.

The "We celebrate" theme is also a time to be thankfulfor the many things WME has brought to the lives of couples, families andcommunities. Pol & Nena Repotente, one of the original seeds and gospelbearer of the love that WME wants to share, led the "Thanksgiving Ritual"together with Fr. Mark and Sister Marcy, and Bing & Nina Arce.

The Gala night was pomp and pageantry as it was emceedby Henry & Lizzie Atayde. After a sumptuous dinner, everybody had aenjoyable time participating in the different contests, awarding ceremonies, posing for souvenir photos, dancing and partying, the rest of the night.Cash prizes and certificates were awarded for the Silver Anniversary logowinner, hat contest, most silvery attire of the night, Choir contest andT-shirt contest.

On the last day of the celebration, .... clickhere to continue

---


Iloilo-Antique News Update
by NonoyDel

The campaign on informing WME ouples of the coming anniversary
celebration received a boost here last July 1stwhen four couples of the community led by BongPearl went regional on-air over the AM band with
the news.
click here to continue