Click here to view WME ID/Discount Card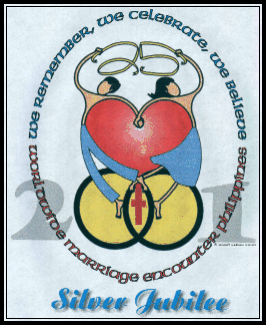 Dinno Paolo Fabian of Donnie & Josie Wins Logo Contest
Last August 12, 2000 a panel of judges headed by Bobby& Alma, together with Onie and Susee Calayan and Emy & Estherchose the winning entry for the 25th anniversary logo contest. Ajudged the best was the entry of Dinno Paolo Fabian, the eldest son of Mr. Donie & Josie Fabian. His entry bested 15 other entries from all over theWME Philippines zones. Dinno is a very young and talented achitechtural graduate of U.P. who is still single and presently working for aprivate firm.

His parents are very much involved in WWME activities, and Dinno himself is a graduate of WME's Choice and the Family Love Circle programs. The top prize will be awarded 5,000 pesos in cash.

The 2nd prize entry is from Frank and Grace Calmerin ofBacolod City. Winning the the 3rd top prize is the entry of Bob & Ica Jalandoni of Dumaguete. Two consolation prizes went to the logo entries of Max & Marlene Lim from the North Zone and another entry of Bob & Ica Jalandoni. The awarding of prizes and recognition will be given next year during the anniversary celebration. All the other entries will be displayed at the 25th anniversary convention on November, 2001.

---

" WE REMEMBER, WE CELEBRATE, WE BELIEVE"

Hello there dear Lovers. Areyou already aware that our WWME-
Philippines Silver Anniversary is forthcoming?

Yes! our beloved apostolate willbe 25 years touching the lives of countless couples and their families. It is going to be a momentous event next year, November 16-19, 2001.

Join the bandwagon and don't beleft out. It will be a once in a lifetime event.

Alot of prepartion is going on rightnow, and the organizers wants you to join in. In the coming months,couples from the organizing commitee will come and visit you, to drum upawareness from all of you couples who believe in the sacrament of matrimony and priesthood.

Stop whatever you are doing andbook this event in your calendarWe want as many couples as possible to attend this dream come true event. Pre-registration going on. See you so
e-mail us to register

Our Very Own WME Philippines ID/DiscountCard

Have you heardof that one yet? It was launched last November 24, 2000 at the 24thanniversary celebration, as a means of raising funds and also to help couplesget discounts at leading commercial establishments, especially if you willbe buying an airline or shipping lines ticket in conjunction with our forthcomingSilver Anniversary celebration in Cebu.

Why not considerthis item as your gift for a love one, or for yourself?

Nakatulong nakayo, may discount pa kayo!

I'm sure youwill make someone happy with this gift. Call Terry & Marnie now at844-5112. The cost of the WWME ID/Discount card is P200.00 only. That is the promo price, because after January 31, 2001, the regular price will be P250.00

For those inthe provinces, contact your Zone coordinators. Order now, so we canship to you the cards in time for Valentine.
Silver Anniverasary Celebration Will be inCebu
Question; what is Cebu City notedfor? Magellan's Cross, Sinulog, Mactan, its sea foods or the warmth and hospitality of its people on this central visayan island? Allof this you will find out and a lot more when WWME Philippines' 25th Anniversary celebration will be held in CEBU.
Yes folks, there are treats waitingfor us in Cebu. That's the place to be come Nov 16 to 19, year 2001.
This is an opportunity for us tosee and visit this vibrant, colorful and historical city. For thosewho already have established some contacts with friends and kins there, this is the best time to rekindle relationships. Since the event is still some 12 months away, we have plenty of time to prepare for it.
Any other reasons and benifits whywe are holding the Silver Anniversary celebration in Cebu? Yes, because Cebu is central to most of the zones in Visayas, Mindanao and Luzon. Also, the particular site in Cebu that we have chosen for the conventionwill fit most of our needs. The place is the GRAND CONVENTION CENTER OFCEBU. It is strategically and conveniently located in downtown Cebu. Shoppingcenters like SM and Ayala Center and nearby big hotels like Waterfrontand many smaller hotels are within easy access.
The venue can handle 1,500 to 3,000people, and most of all, the place is being offered to us for FREE.
As cash strap as we are in our financesspecially at this time of great economic difficulties, the offer is tootempting to resist. Imagine, rental, airconditioining, sound system, thetables and chairs are all free for the entire celebration. The rental alonewill be a big saving for our movement.
And what's the catch for all ofthis? All that we are asked to is to buy the lunch or dinner from them. Isn't that great? Hosting can be handled by the Cebu couples and the rest can be accomodated on other retreat houses and pension houses in MetroCebu.
Arrangements are being madeso that transportation by boat and plane fares will be cheap and affordable for WWME couples.
At the opening of the convention, participants will have a taste of the real SINOLUG ( Cebu), ATIATIHAN (Ilo-ilo), DINAGYANG.( Antique) and MASKARA ( Bacolod) festivals. Thereare also plans for a parade all over the city.
After the convention the delegatescan have a tour of Cebu's famous tourist spots. A side trip can bearranged to Bohol to see the Chocolate Hills, the oldest church and theMuseum of Baclayon. See the smallest monkey in the world, and lunch at Loboc
River or Bohol beach club and experiencethe many more internationally acclaimed tourist spots in Bohol .
Cebu is making plans to make thecelebration worth attending so that couples from Manila, Batangas, Mindoroand all the other satellite zones in Luzon will not regret coming. Of coursedelegates and guest from our neighboring Asian countries will be theretoo to celebrate with us. It will be worth remembering this milestone inour movement's history. BE THERE!


Our Very Own WME Philippines ID/DiscountCard
(see facsimile on left side)
"WE REMEMBER, WE CELEBRATE, WE BELIEVE"